My passion in photography is working with people. I love to make my clients look good in pictures. I especially enjoy surprising people who think they look awful in pictures by making them look great!
Whenever I shoot a photo of someone, I want them to be comfortable. I don't think you can get a good photo of someone unless they feel relaxed and happy to be in front of the camera. I'm told that that's my greatest skill: making people feel at ease. Even if they felt nervous about the process of being photographed, I strive to make the experience comfortable and fun.
"The photos are really wonderful. You did an amazing job. I was nervous about having my photo taken, and it was really a wonderful experience from start to finish." - Rachel Schwarz
There are a number of different categories of portrait photography that I have packaged. If none of the packages below suits your needs, please contact me for a custom quote.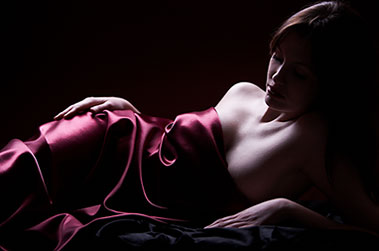 Beautiful and sexy photos of yourself can make you feel great. They can also be a wonderful and sensuous gift for someone you love. Making women look and feel like glamour goddesses is my specialty. Unlock your erotic potential with sensuous glamour photography. Learn more about my unique Foreplay Glamour Photography Packages.
Individidual portrait package - $400
Portraits for friends, family, work. Whatever the reason, I'd be happy to shoot great photos of you.
Family portrait package - $700
There are lots of reasons to get a family portrait: to celebrate a new arrival, to send to friends and loved ones, to display in your home, to commemorate special events. I'd be happy to work with you and your family to create something that you'll treasure for years.
The two of you make a great couple. Why not celebrate your upcoming nuptuals or get a portrait done just for fun?
Pregnancy is a sacred and special time for a mother. I attempt to capture the magic, the love, the challenge and the promise of the creation of life.
I work with a number of very talented and skilled hair and makeup artists. Even if you do your own hair and makeup every day, I recommend that you hire a professional for your photos. The pros know how to get your look "just right" for the camera. Makeup for photography is slightly different and requires more perfection than everyday makeup. The cost is generally around $120 per look per person for this service.
If you'd like to hire a hair and makeup artist, please allow me a week to coordinate the dates and make sure we can have someone available for you.