Until July 31, 2014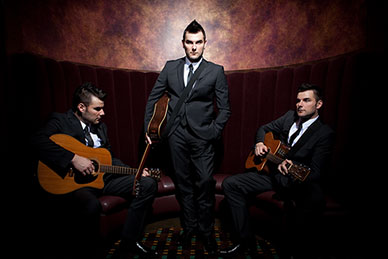 So what is it you're trying to say? Who are you portraying? What kind of mood are you setting? What type of emotion do you want to stir? These are all things I consider when shooting promotional photos for performers.
Until July 31, 2014
This price applies to bands, comedy groups, performance ensembles. Basically any group of two or more performers.
We'll work together to create a strong and eloquent image that compels your audience to see you.
A photoshoot of up to three hours
Approximately 100-150 exposures
A password-protected web gallery of proofs
Three finalized images with blemishes touched up and color calibrated for printing
Additional photos available for purchase at $50 each
Your finalized photos delivered in high resolution JPG for submission to print media, and web resolution JPG for use on websites
Finalized images provided on CD or for Internet download
A license to use the finalized photos for your personal promotional needs.
Optional professional hair and makeup artist costs $120 per person. Large groups may be eligible for a discount on hair and makeup costs.
I can be on location to shoot your live events. Price will vary according to location, duration, travel costs, etc. Please contact me for more information or to obtain a quote.
I work with a number of very talented and skilled hair and makeup artists. Even if you do your own hair and makeup every day, I recommend that you hire a professional for your photos. The pros know how to get your look "just right" for the camera. Makeup for photography is slightly different and requires more perfection than everyday makeup. The cost is generally around $120 per look per person for this service, with discounts for groups.
If you'd like to hire a hair and makeup artist, please allow me a week to coordinate the dates and make sure we can have someone available for you.