I think this will be my last pre-China blog.
I've been hideously busy lately, shooting, editing, working, flying, doing improv, socializing, trying to get ready for the trip, etc. It's almost a good thing that I got this new toy from work. I have never wanted a Blackberry, mainly because I feel that they tie you to work, never letting you unplug. But, I'm required to carry it now, even if I decide not to respond to the constant stream of email that comes to it. After some serious mucking around with it, I discovered it's actually not too bad. I've got it configured with my personal email now, it runs Google Talk, and I have customized the desktop with one of my own photos. I downloaded fun ringtones to it too (mine now plays the Charlie Brown theme song). I can now understand the argument that it doesn't necessarily tie you to your desk, but frees you from it, since you don't have to run back to the office/home to read your email. Glass half-full, glass half-empty.
I had a fun shoot the other day. I shot a Latin jazz band in the middle of the Humber river. Aside from having to be on location at 7am on a Sunday morning, it was highly entertaining. It was very peaceful when we got there, but a bit chilly.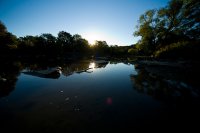 After a bit (lot) of coaxing, we got the band set up in the water. Aside from the leader of the band, most of them were reluctant to get into the water. But, eventually we were ready to go, musicians ankle-deep in river muck, and instrument stands and stools somewhat firmly supported by rocks.  It was interesting to me that the steel-pan player had recently wrecked his knee, and had only a few days before underwent the ACL surgery that I need. He needed a lot of help from the other band members to get down to the river, and to get himself set up in front of his drums, but it was encouraging to see that he was actually functional and getting around.
When we finally got to shooting, the band was great. They played a few songs, and soon enough, a crowd was gathering on the riverbank, cheering and clapping and whistling at the end of each song. The guys were really getting into it, goofing around, switching instruments, having fun. As the sun came up, it even became quite pleasant to be standing in the river.
Anyway, we shot for a few hours, until the sun was too high to shoot any more. Here are a few of those shots.
I decided to embrace the lens flare, since it was impossible to avoid anyway. In a couple of the shots, I had to hold my hand out in front of the camera, in the frame, to block the sun when the flare got too extreme. I used Photoshop to remove the hand from the photo afterwards.
Anyway, as I mentioned earlier, this will be my last pre-China post. I'll be flying out on Monday morning, and I need all the time until then to get ready. I am actually excited to the relative peace and quiet of my 13-hour flight to Beijing. We'll see how I feel 8 hours in…